PRESS
...................................
2022
FRANKFURTER ALLGEMEINE ZEITUNG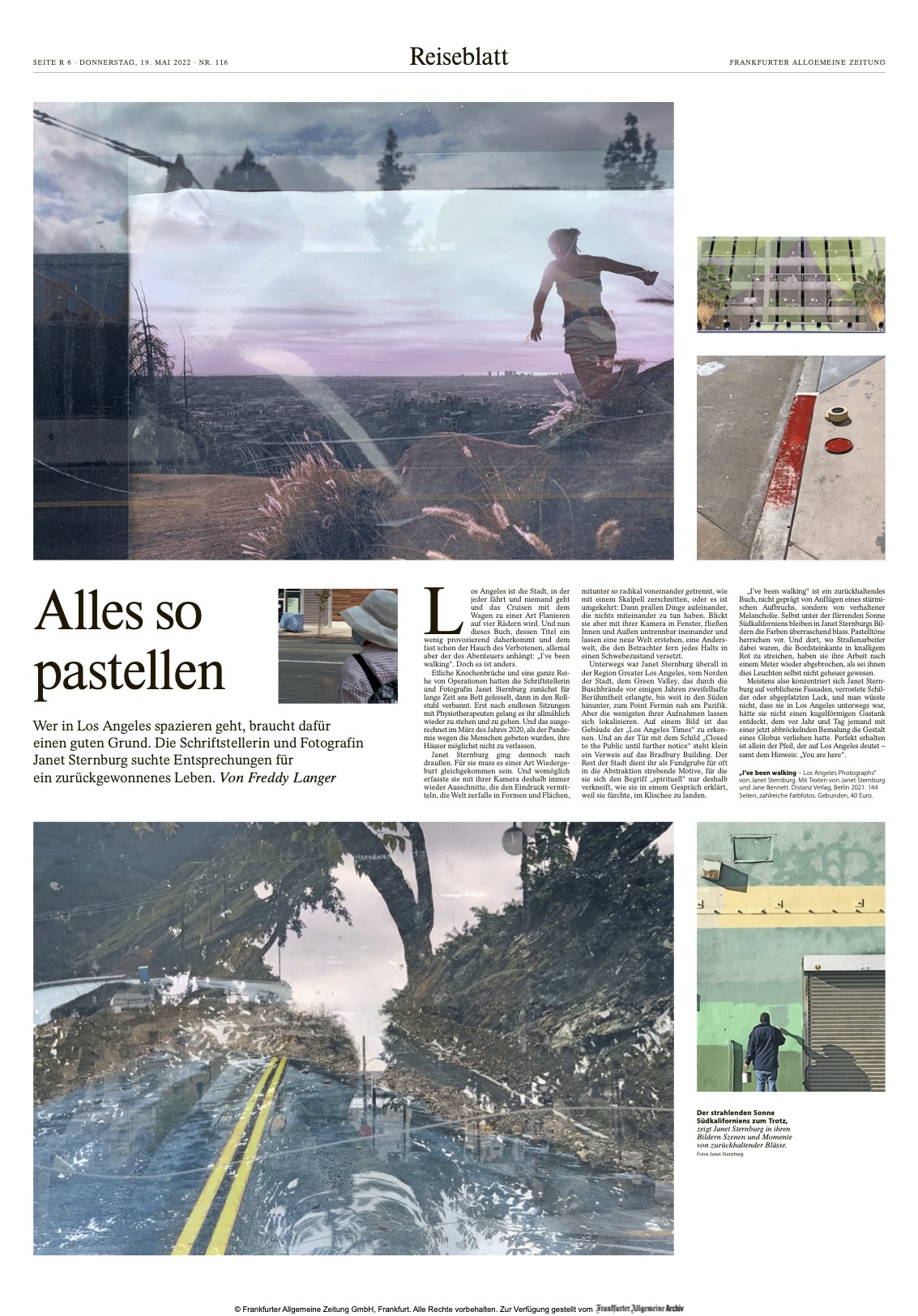 TRANSLATION, review by Freddy Langer, published May 19, 2022
Anyone who goes for a walk in Los Angeles needs a good reason. The writer and photographer Janet Sternburg was looking for equivalents for a reclaimed life. 
Despite the bright Southern California sun, Janet Sternburg's images depict scenes and moments in quiet hues.
*****
Los Angeles is the city where everyone drives and no one walks, and cruising by car becomes a kind of strolling on four wheels. And now this book, whose title is a little provocative and almost has the air of the forbidden, but always that of adventure: "I've Been Walking." But it is different.
Several broken bones and surgeries initially confined the writer and photographer Janet Sternburg to bed for a long time, then to a wheelchair. Only after endless sessions with physical therapists did she gradually manage to stand and walk again. And that was in March of 2020, when people were being asked not to leave their homes because of the pandemic.
Janet Sternburg went outside anyway. For her, it must have been a kind of rebirth. And perhaps that's why she repeatedly captured scenes with her camera that give the impression that the world is falling apart into shapes and surfaces, sometimes as radically separated from one another as if cut up with a scalpel, -- or, it's the other way around: things that have nothing to do with one another collide. But when she looks into a window with her camera, inside and outside flow inseparably into one another and give rise to a new world, a different other-world that transports the viewer into a state of suspended animation, one that doesn't offer any footing.
Janet Sternburg has been on the road all over the Greater Los Angeles region, from the north of the city, Green Valley, which gained unwelcome notice during the brush fires of a few years ago, all the way down to the south, to Point Fermin near the Pacific Ocean. But few of her shots can be localized. In one picture, the building of the Los Angeles Times can be seen. And at a door with the sign "Closed to the Public Until Further Notice," there is a passing reference to the Bradbury Building. The rest of the city serves her as a treasure trove of motifs that often move toward abstraction, for which she refrains from using the term "spiritual," as she explains in a conversation, only because she fears ending up in a cliché.
"I've Been Walking" is a restrained book, not marked by flights of stormy drama but rather by a quiet pensiveness. Even under the shimmering sun of Southern California, the colors in Janet Sternburg's photographs remain surprisingly muted. Subtle tones predominate. And where road workers were about to paint a curb in shiny red, they abandoned their work after a meter, as if they themselves were not comfortable with this bright gleam. Most of the time, Janet Sternburg concentrates on faded facades, rusted signs or chipped paint, and you wouldn't know she was in Los Angeles if she hadn't discovered a spherical gas tank that someone had painted as a globe of the world, the paint now crumbling. Preserved perfectly is only an arrow pointing to Los Angeles, with the sign, "You are here."
"I've Been Walking - Los Angeles Photographs" by Janet Sternburg. With text by Janet Sternburg and Jane Bennett. Distanz Verlag, Berlin 2021. 144 pages, color photos. Hardcover, 40 euros. By Freddy Langer
____________________
LA TIMES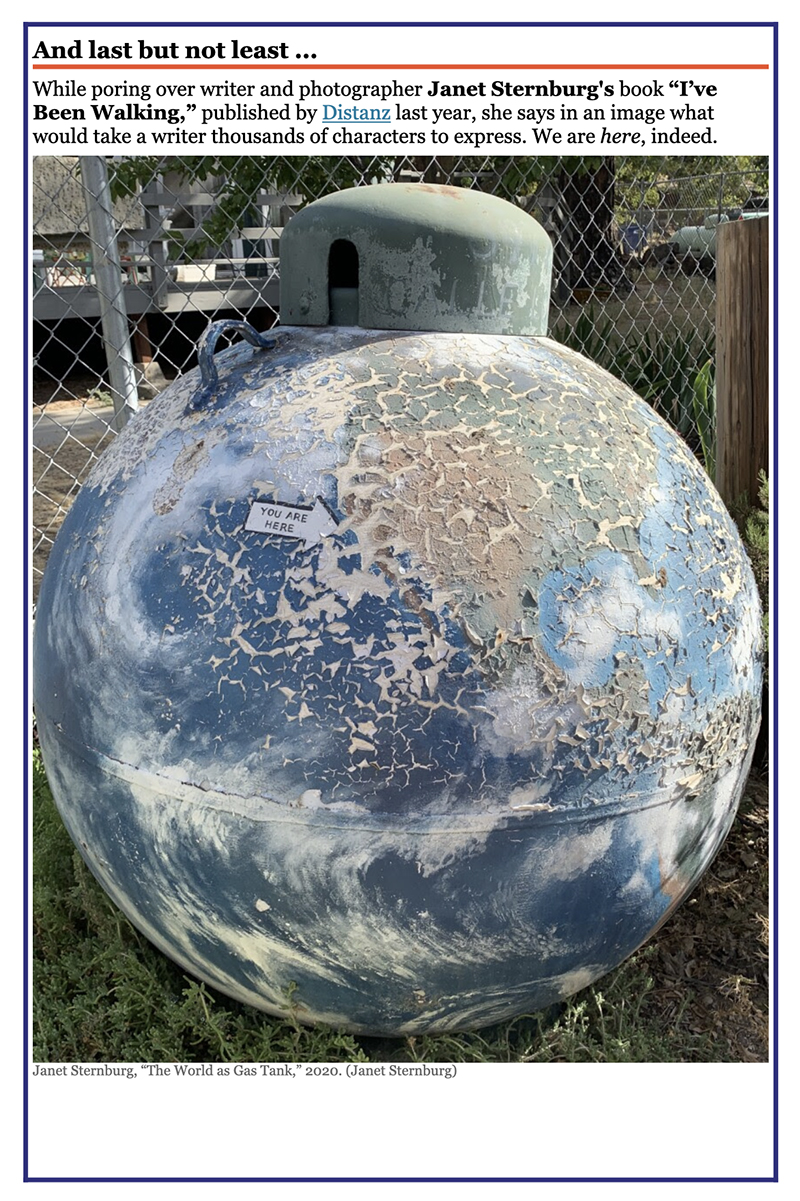 ____________________
FORBES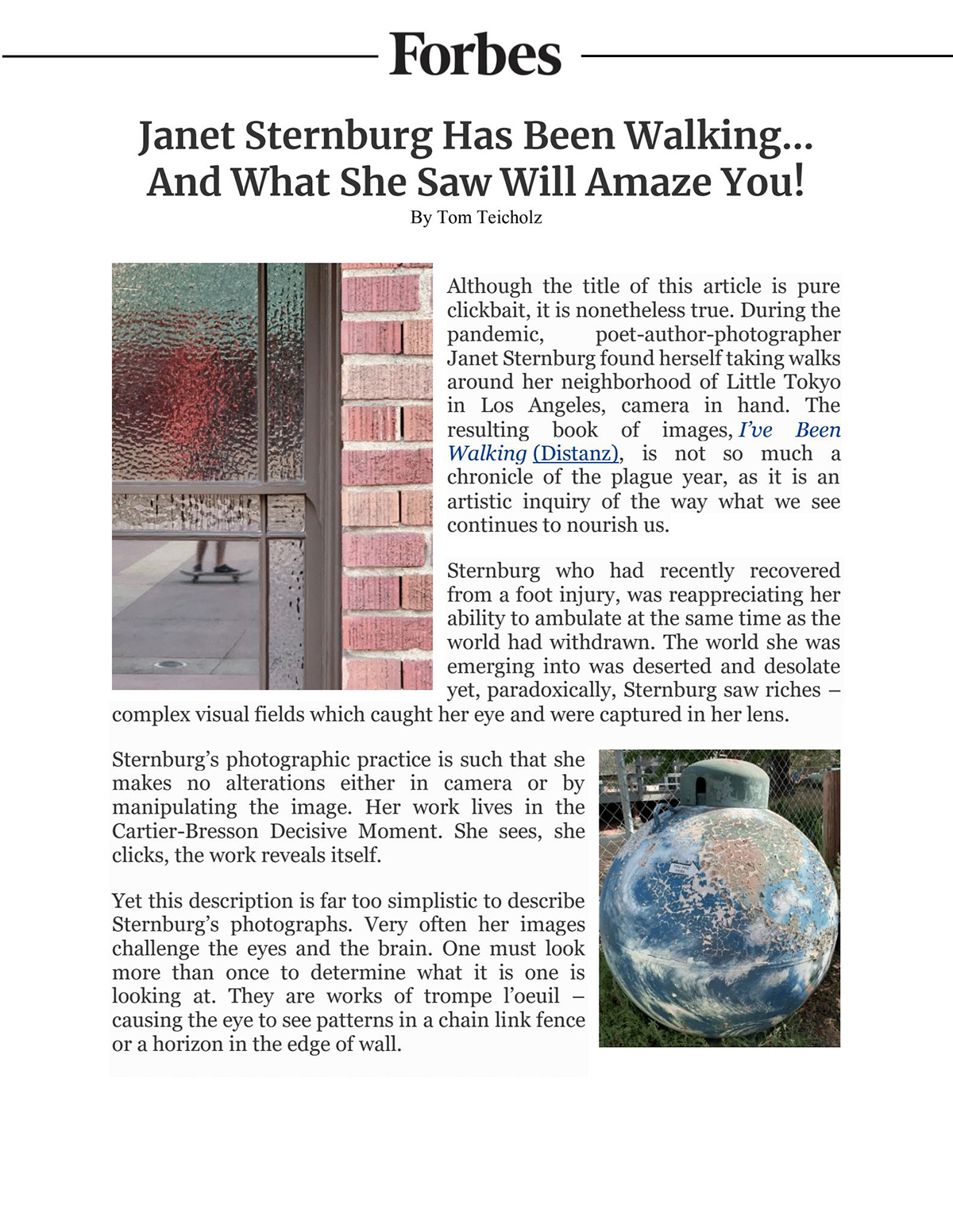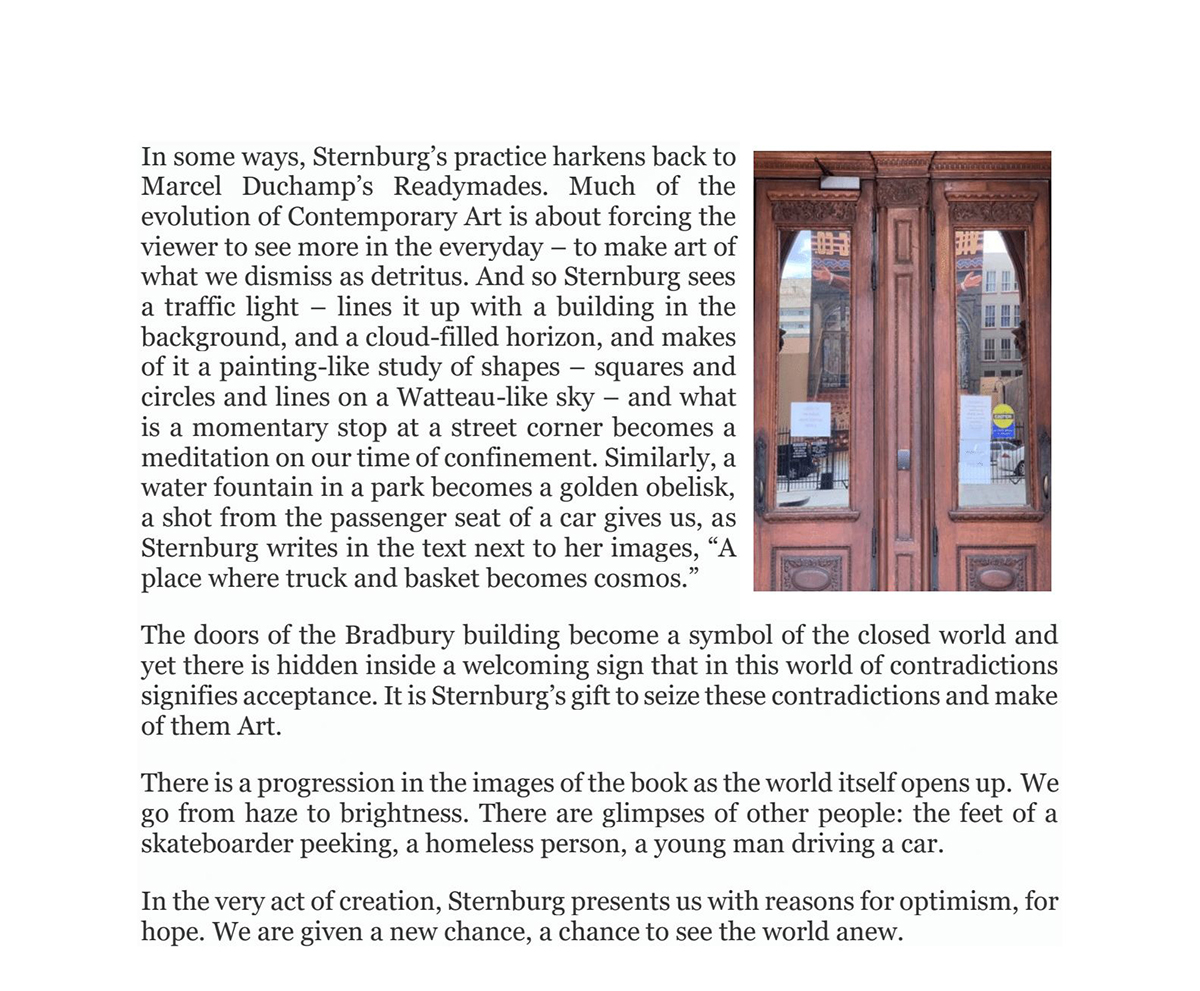 ____________________
____________________
____________________
...................................
2020
THE GENIUS LIST - see full interview below -
...................................
2019
LIMBUS solo exhibition at USC Fisher Museum of Fine Arts, Los Angeles
____________________
KCRW .
...................................
2018
OVERSPILLING WORLD solo exhibition at CONTRASTO GALLERIA, Milan
____________________
____________________
FOTOZONA .
____________________
____________________
____________________
____________________
ArtsLife .
____________________
ZERO .
____________________
...................................
2016 / 17
JANET STERNBURG: OVERSPILLING WORLD - Distanz Verlag -
____________________
____________________
24700 NEWS FROM CALIFORNIA INSTITUTE OF THE ARTS .
____________________
FORBES .
____________________